Openfiler iSCSI SAN for Virtualization

Openfiler iSCSI SAN for Virtualization
Openfiler iSCSI SAN for Virtualization (SAN-4-V) is designed for production use in environments that demand sustained high I/O load capacity and strict standards compliance from backend storage, typical of virtualization and cloud deployments. Openfiler iSCSI SAN-4-V comprises of a robust performance-oriented standards-compliant kernel iSCSI target implementation coupled with a front-end web-management interface.
Deploying a feature-complete standards-compliant iSCSI storage area network could not be easier with integrated volume management and broad hardware support.
Performance
Openfiler iSCSI SAN-4-V is an affordable, performance-oriented solution suitable for virtualization and cloud application deployment. This Intel case study based on Openfiler iSCSI SAN-4-V demonstrates the significant cost-savings gained over proprietary storage solutions whilst simultaneously delivering equivalent or better performance of proprietary storage platforms.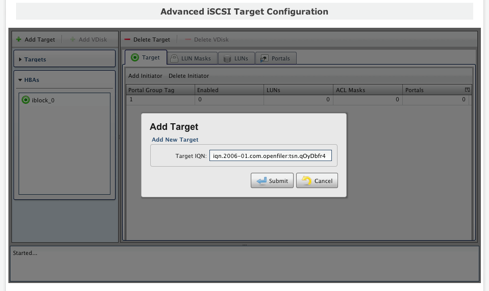 Features
Persistent reservations support – As an iSCSI target LUN can be accessed from multiple initiators concurrently, such as in a high-availability cluster or shared-storage flesystem, a means by which to prevent initiator I/O clashes has to be implemented. The basic iSCSI target implementation in Openfler supports SCSI RESERVE/RELEASE. This is used in environments where a dedicated lock is required on the I/O target – a LUN in this instance – from multiple initiators performing I/O concurrently. While most legacy applications can function using the RESERVE/RELEASE commands, some newer applications, notably Windows 2008 cluster, require SPC(SCSI Primary Command)-3 Persistent Reservation (PR) commands to function properly. Openfler iSCSI SAN-4-V will honor initiator PR commands where necessary.
Please login to view full content